The Sandman Will Keep You Awake - The Loop
Play Sound

Teen Wolf Season 4 was filmed in Los Angeles, California between February 19th and July 1, 2014. Episode 401, The Dark Moon debuted on MTV on June 23, 2014 and was, according to the Nielsen Company, viewed by 2.184 million people.
Overall, with the changing entertainment landscape of cord cutting, streaming and an industry-wide decline in linear viewing, Season 4 was the least watched Teen Wolf Season with an average episode drawing just 1.61 million viewers.
Production
After completing a marathon 24 episodes over 12 months, Teen Wolf Creator Jeff Davis requested that MTV cut the show back to a 12 episode 4th Season.
The first of 12 episodes began filming on February 19th at the Blue Cloud Movie Ranch in Santa Clarita, CA. The location's "town" was redressed as a Mexican village for the first episode.
Interiors were once again shot on at the former Teen Wolf Headquarters in Northridge, California. Palisades Charter High School is again used for Beacon Hills High School.
Lacrosse returned as the school sport in Season 4. Two games were filmed - the first during the week of March 24 and the second during the week of April 7. The Beacon Hills High Lacrosse field is at Woodley Park in Los Angeles.
Behind the scenes photos and information from the filming of Season 4 set are available on our Teen Wolf Behind the Scenes Page.
Plot
Details of the plot were released during MTV's Upfront presentation on April 24, 2014 when a brief synopsis of the season was released to reporters and potential sponsors.
Still healing from tragic losses, Scott, Stiles, Lydia, and Kira return to a new semester of school with more human worries than supernatural, while also trying to help their new friend, Malia, integrate back into society. But Kate Argent's surprising resurrection brings a new threat to Beacon Hills along with the emergence of another mysterious enemy known simply as The Benefactor.
Episodes
Image
#
Title
Writer(s)
Director(s)
Airdate

#401
The Dark Moon
Jeff Davis
Russell Mulcahy
June 23, 2014
Scott searches for a missing friend in Mexico in the Season 4 premiere.

#402
117
Eoghan O'Donnell
Christian Taylor
June 30, 2014
Scott turns to an unlikely ally in order to stop Kate.

#403
Muted
Alyssa Clark
Tim Andrew
July 07, 2014
Scott's position on the lacrosse team is threatened. Meanwhile, Stilinski investigates a murder.

#404
The Benefactor (Teen Wolf Episode)
Jeff Davis & Ian Stokes
Russell Mulcahy
July 14, 2014
On the night of the full moon, uninvited guests turn up at Lydia's lake house; Derek pursues a killer.

#405
I. E. D.
Angela L. Harvey
Jennifer Lynch
July 21, 2014
Lydia seeks help with her powers; Scott, Stiles and Kira play in their first lacrosse game.

#406
Orphaned
Jeff Davis
Russell Mulcahy
July 28, 2014
Scott is forced into helping a dangerous enemy; Derek and Malia track an old ally.

#407
Weaponized
Alyssa Clark
Tim Andrew
August 4, 2014
The school is overtaken by a mysterious outbreak.

#408
Time of Death
Angela L. Harvey
Jann Turner
August 11, 2014
Scott carries out a dangerous plan. Meanwhile, Malia confronts her past.

#409
Perishable
Eric Wallace
Jennifer Lynch
August 18, 2014
An assassin targets Scott and Liam at the lacrosse team's annual bonfire. Lydia uncovers a family secret. The Benefactor's identity is revealed.

#410
Monstrous
Jeff Davis & Ian Stokes
J.D. Taylor
August 24, 2014 (Sunday 7PM)
Scott and Kira protect the remnants of Satomi's pack while Malia and Stiles team up to uncover the origins of the Dead Pool.

#411
A Promise to the Dead
Jeff Davis & Ian Stokes
Tim Andrew
September 1, 2014
Scott battles an old enemy.

#412
Smoke & Mirrors
Jeff Davis
Russell Mulcahy
September 8, 2014
Stiles, Malia and Derek return to La Iglesia to save Scott from Kate.
Cast
Returning
New This Season
Other Cast
New Main Titles
MTV released a new opening credit sequence on June 16.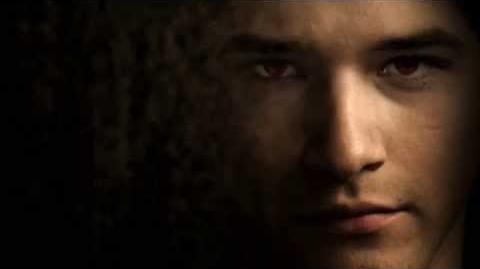 Allison Argent has been removed. Scott's portion has been changed slightly. The segment featuring Stiles is changed and extended. Kira and Malia were added to the opening credits.
Promotion and Marketing
The first "teaser trailer" for Season 4 was filmed on April 6, 2014 at Siren Studio on Sunset Boulevard in Los Angeles.
It was released on Youtube via tumblr and twitter on May 19, 2014.
Teen Wolf Wiki News produced a "Behind the Scenes" look at the filming of the first teaser trailer.
The second "teaser trailer" incorporates footage from Season 3(b) and upcoming Season 4 episodes.
It was released via tumblr and MTV's Teen Wolf Site on June 4, 2014.
The first "Full Trailer" was released on June 6, 2014.
To see it, fans had to solve a sixteen word puzzle at a special website whoisthebenefactor.com.
By the morning of June 7th, after 20 hours of trying, no one had solved the puzzle. MTV had to give away the answers and the correct order of the words before the first person was able to access the video.
The correct entries in order are:
117
2436
DEMARCO
BRETT
JORDAN
HEXAGON
TOMAHAWK
TRUTH
THERMOWIRE
DECADE
YELLOW
VIOLET
CONTROL
MUTE
IGLESIA
SATOMI