Teen Wolf News 033016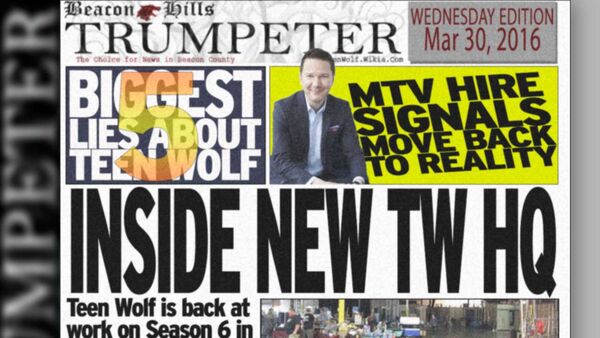 MTV Moves Away from Scripted?
MTV appears to be backing away from its heavy push toward scripted programming. The network announced Michael Klein as their new head of programming this week.
Klein's roots are solidly in the reality TV realm. His most recent position at Conde Nast saw him create a news magazine program and online content to support the publishing giant's most recognized names including Vanity Fair, Vogue, Glamour, Wired and The New Yorker.
Klein was previously with the Sundance Channel where he developed a number of reality shows including Girls Who Like Boys Who Like Boys, All on the Line With Joe Zee and Push Girls.
Contrast Mr. Klein's resume with the last person MTV tapped to guide it's programming.
With a career that included bringing Buffy The Vampire Slayer, Gilmore Girls, Dawson's Creek and Smallville to television, Susanne Daniels' hire back in 2012 signaled the network's and its parent company VIACOM's newfound dedication to quality scripted programming.
Her tenure barely made a ripple. With high-profile scripted failures like Eye Candy and moderate successes like SCREAM and Shannara Chronicles, Daniels left MTV to join YouTube back in July.
It took the-powers-that-be 8 months to replace her and their choice of Klein is a clear signal that MTV's direction is shifting back in the direction of Jersey Shore and Teen Mom and away from Shannara, SCREAM and Teen Wolf. According to MTV president Sean Atkins' statement, "His (Klein's) leadership and experience are an excellent fit for MTV in this pivotal moment for the network, as we accelerate a new development slate of music and pop culture-inspired programming."
Teen Wolf Filming Again
We got a few glimpses inside the new Teen Wolf HQ this week as production resumed on Season 6.
Orny Adams was onset as were Michael Johnston, Dylan Sprayberry and Khylin Rhambo.
Visitors to set this week included actor Joey King and Johnston's mom.
There's not much to say about the new TW HQ, like the Balboa Blvd spot they moved from earlier this month, the new place is just a nondescript warehouse in an area of other nondescript warehouses. They've already erected much of the old high school set inside and we've seen pieces of a number of other familiar locations.
Now that they're back at work, we'll be scouring the cloud for new and interesting behind the scenes images and bring them to you each week in Teen Wolf News.
5 Biggest Lies About Teen Wolf
This week saw the spread of yet another MoviePilot "article" full of lies about Teen Wolf. This one came with a disclaimer about being speculation and rumors but it was picked up by Google News' algorithm and presented as genuine news to the masses.
The general rule for anyone looking for actual news about Teen Wolf is "Never Trust MoviePilot."
To clear the air about what we do and don't know about Teen Wolf Season 6, here are the top five lies circulating currently.
LIE: Teen Wolf returns on June 28.
TRUTH: There is no date for a return. Teen Wolf Creator Jeff Davis says, "No premiere date at all yet."
LIE: Isaac/Peter/insert-name-here is returning to Teen Wolf.
TRUTH: There is no indication who will be returning. Jeff Davis says, "There will be another returning character or two this season." As of now there is no indication who that will be.
LIE: Kira is/is not coming back to Teen Wolf.
TRUTH: We don't know. Jeff Davis says, "You'll have to wait and see the fate of Kira."
LIE: New Hales are coming.
TRUTH: No. Just no. If this was true, you wouldn't know about it.
LIE: Isaac will be adopted by Chris Argent.
TRUTH: Really? I actually have to point out that this is a lie?
There are more lies out there. These are just the ones that spread most this week. The best rule is not to believe anything until you actually see it with your own eyes or hear it from Jeff talking to a reputable source. 
Dylan O'Brien Accident Aftermath

There's been nothing new released this week about Dylan O'Brien.
UPDATE Thursday 033116
According to WorkSafe BC, Dylan O'Brien apparently suffered "Concussion; facial fracture and lacerations" in the accident that shut down production of The Maze Runner: The Death Curein Cache Creek, British Columbia on March 17.
The provincial organization that investigates workplace accidents reports all injuries on their website. While their reporting is anonymous, O'Brien's was the only serious accident on a movie set in the province last month.
In their report WorkSafe says, "A worker was leaving the filming area on a motorcycle after completing a stunt sequence. The motorcycle went into a slide while turning onto a side road. The worker struck his head on the pavement and temporarily lost consciousness."
This is just the preliminary report from the agency published for every incident as a matter of policy. "Incident summaries are published to alert employers and workers to hazards in their industry. Information in incident summaries is preliminary and subject to change. Details are edited to protect the privacy of workers involved."
A more detailed report and an additional investigation report from movie studio 20th Century Fox must also be filed.
Earlier media accounts suggested O'Brien was run over or fell from a set, it appears neither is true. According to Maze Runner author James Dashner, production is shut down for "a couple of months" but both he and director Wes Ball say O'Brien will fully recover from his injuries.
Earlier Report
Teen Wolf News has learned that the Directors Guild of Canada has removed The Maze Runner: The Death Cure from its list of "Current Productions" which includes listings for all television and movie shoots underway or planned to start in the Vancouver area within the next few months. Prior to Friday, The Death Cure had been on the list each week for several months.
The DGC's removal comes a week after actor Dylan O'Brien was hospitalized after falling from one of the production's sets in Cache Creek, British Columbia.
Little official information about the accident has been released but James Dashner, author of The Maze Runner books gave a few more details to fans at the Paris Book Fair recently. "He's going to be totally fine. He kind of banged up his face," Dashner said while touching his right cheek, "but he'll still be pretty, don't worry."
Dashner says the movie adaptation of The Death Cure is on hold for a while. "They'll probably start filming again maybe in a couple of months."
The writer says O'Brien remains in good spirits, "Even on the day he was hurt, he was joking and laughing. You know how Dylan is. He's tough and he has a great sense of humor and he's going to be totally fine."
Community content is available under
CC-BY-SA
unless otherwise noted.