Teen Wolf News 051116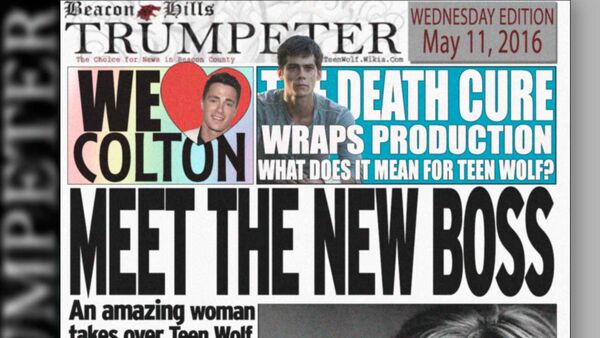 The Woman in Charge at Teen Wolf

With Jeff Davis "stepping back" from the day to day operations at MTV's Teen Wolf, he's tapped a number of other producers to pick up what he's left behind. The woman he chose to serve as Executive Producer in the writers' room has a remarkable record. Not only has Lindsay Sturman produced some amazing television, she's helped change the face of education in parts of Los Angeles at the same time.
In 2004, unhappy with the overcrowding, lack of diversity and poor performance at her local elementary school, Lindsay Sturman decided she would do something about it.  "An individual can't change a public school. You cannot take over a public school but you can start a charter school," Sturman said of her initial plan. She gathered parents together at her house in Hollywood and 18 months later Larchmont Charter School opened its doors to students.
For those unfamiliar with the process, it is not as simple as filling out a form. Sturman had to build a team, secure funding and non-profit status, petition the school system and the state and do just about a million other things to get it going. Setting up a school like Larchmont isn't quite as complicated as planning a manned mission to Mars but it's close. Sturman and her friends managed to pull it off while, at the same time, she was writing and producing network television shows Joan of Arcadia and Close to Home.
Today Larchmont is considered "a shining star" within the charter movement. With 1600 students across 4 campuses, Larchmont is one of the highest-performing schools in Los Angeles and has inspired other charter school programs across Southern California.
With the first Larchmont senior class set to graduate next month, Sturman is in the midst of another challenge. Early this year, she was tapped as Executive Producer to run the day to day work in Teen Wolf HQ's writers' room.
Previously listed as a "consulting producer" on the show, Sturman came to Teen Wolf from the short-lived Vince Gilligan procedural Battle Creek on Fox. She told thegeekiary.com that she was a Teen Wolf fan before she got the Beacon Hills gig. "I watched the show and loved it as a viewer.  I have several family members who you might call 'obsessed.'  They got me hooked, and then I got my family hooked.  My daughter especially.  Every night is Teen Wolf night in our house."
Teen Wolf isn't her first foray into genre programing. Sturman was a writer on the Syfy channel's Odyssey 5 and the CW's CULT. "I have worked on shows I loved, shows with great characters, and great fantasy shows, but never one that combined them all.  I love the monsters and the scares, and I love the character stories – I laugh, I cry, and I gasp a lot."
So far her writing credits on Teen Wolf are limited to the Season 5 episode Amplification. "What is so fun about being a writer on the show is that I am still a fan.  I will watch an episode for the 3rd, 4th, 5th time and still react, still be moved, and still tear up.  Having fallen in love with the characters and their stories, it is a thrill to imagine more for them."
Teen Wolf Season 6 still doesn't have a debut date but Sturman will be responsible for getting 20 new episodes of the show ready to shoot in the coming months.
Maze Runner Wrapped
The Maze Runner: The Death Cure has wrapped its current production. According to the Directors Guild of Canada, the production office in Vancouver will shut its doors on May 20.
Details on what all this "wrapped" business will mean for the future of the movie are up now at our news partner FANDOM.com.
Despite what you might have read, the trials, tribulations and schedule changes of the Maze Runner sequel and even Dylan O'Brien's injury have absolutely nothing to do with the progress of Teen Wolf Season 6.  "Death Cure doesn't really impact us," Jeff Davis said on Tuesday. "Production always planned to work around Dylan's schedule and has made allowances for delays or unexpected changes."
It seems all those "news" outlets who reported a "debut date" for Season 6 are now trying to explain away their false news by claiming the production is "delayed" due to the accident and the subsequent delays in the film's production. Nothing could be further from the truth. There is no debut date for Season 6. There never was a debut date set for Season 6.
Davis says it's business as usual at Teen Wolf HQ, "Not delayed at all. Production is right on schedule with the shoot. Lindsay (Sturman) and the writers are hammering away at scripts every day."
Behind the Scenes
Teen Wolf director Russell Mulcahy was busy last week working out the details of that 80s flashback scene everybody's been buzzing about. But the show's original director wasn't too busy to clown around a bit on set.
We also saw a spate of selfies and snapchat videos from the cast this week.
Colton's Big News
According to social media reaction, there seem to be two ways to look at Colton Haynes' personal announcement in Entertainment Weekly this week.
1. Something like this shouldn't really be headline worthy in 2016. We should, as a society, be past making people feel weird about themselves because of stuff like this.
2. It's important for celebrities to announce stuff like this because young people who are made to feel weird by society need representation so they know they're not weird.
I mainly agree with number 1 but I understand that the need for number 2 still exists. Wherever you land on the issue, I hope you'll join me and the whole Teen Wolf family in thanking Colton for sharing his personal story despite his well-founded fears and anxiety. 
Community content is available under
CC-BY-SA
unless otherwise noted.