Teen Wolf News 062216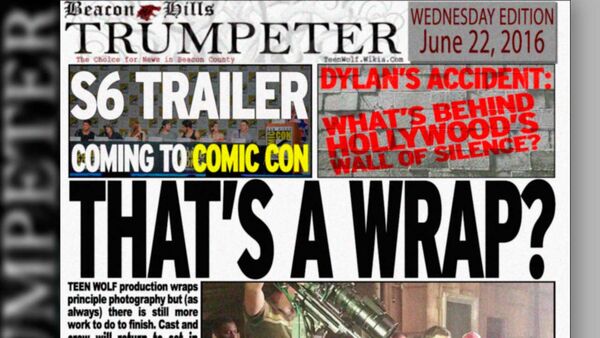 Teen Wolf Takes a Break
Teen Wolf studios are silent this week as the production takes a summer break. "Yes, we are on a brief hiatus," Executive producer Jeff Davis tells Teen Wolf News.
This does not mean all the work is done on the first half of Season 6. With a number of scenes yet to be filmed, Davis says they'll be back, "We're picking back up again to do two more weeks of shooting in August."
Teen Wolf can generally shoot a single episode in about 7 working days. By working more than one unit at a time, they can do one episode and a bit more in the same period of time. If they're coming back for a full two weeks, that suggests they've got a great deal still to do.
Davis still won't comment on Dylan O'Brien's current condition or participation in Season 6 except to repeat what he's told us before. Dylan will be on the show for Season 6. While some may speculate that returning to do what amounts to two more episodes later this summer has something to do with Dylan's injury, that is pure speculation and cannot be confirmed.
MTV has yet to announce a debut date for Season 6.
Teen Wolf Trailer Coming to Comic Con
Teen Wolf Creator Jeff Davis confirmed to Teen Wolf News this week that MTV will be debuting the first trailer for Season 6 during Comic Con in San Diego.
The network has still not announced a debut date for Season 6 but their presence at the "Pop Culture Mecca" will be an excellent opportunity to do that.
The event runs from Thursday through Sunday, July 21-24 but they won't publish the schedule until July 6 at the earliest so we don't know when Teen Wolf's panel will be yet. We also don't know yet just who from the cast will appear on stage.
Teen Wolf News will cover the event and bring you updates throughout.
EDITORIAL: Dylan O'Brien and the Hollywood Wall of Silence
We here at Teen Wolf News were not the first to report the recent news that Dylan O'Brien's accident is being blamed on The Death Cure production company and the crew responsible for planning and executing the stunt that sent him to the hospital. We are, however, one of the few US-based publications to feature the story.
At press time, none of the main players in US entertainment news, Deadline.com, The Hollywood Reporter, Variety or Entertainment Weekly have posted reports on the findings of WorkSafe BC. Even TMZ, the first outlet to report O'Brien's injuries on March 17, has been silent on the fact that Twentieth Century Fox and Fox U.S. Productions 49 Inc. were chastised for negligence in the matter.
While the report from WSBC has been widely reported in Canada and the health and safety organization's report is available to everyone, large US entertainment outlets seem to be ignoring it.
(Details from the WorkSafe BC report are available in last week's Teen Wolf News)
For comparison, when a film crew member, Sarah Jones, was killed on a Georgia film set back in 2014, all the industry trades covered every scintilla of information about the incident, the investigation and the subsequent criminal trial involving the producers, writers and director. They even published the autopsy results against the wishes of Jones' family.
I have to wonder; why are they remaining mum on what caused O'Brien's brush with death?
So far they've only covered the business side of the O'Brien incident, the delayed production and the resulting delays to Fox's slate of films. They've parroted the official statements from the studio without asking any questions of their own. There have also been none of the public calls for better safety on film sets that followed Jones' death.
While Jones died and O'Brien lived, the accidents are similar in that, according to OSHA and WorkSafe respectively, expedience and impatience led to fundamental safety failures in both. The only big difference here is that Twentieth Century Fox is a much larger studio and the folks responsible in the Jones case were small independent producers.
Hollywood is very much considered a "Company Town" meaning that the business of show holds sway to a large extent over the industry news that gets reported. Back in the day, if THR or Variety hoped to get access to "big stars" and the ad revenue that comes from the studios, they softened their coverage of controversial issues.
One would hope that is not the case here but this wall of silence on the Dylan O'Brien accident report raises some questions. Are these publications staying quiet in an effort to protect Twentieth Century Fox? Does someone else have to die before film set safety is again a priority and headline worthy for these outlets?
Tyler on Becoming Clark
We saw some amazing casting news this week for a former Teen Wolf. Tyler Hoechlin will be portraying Superman when the series Supergirl debuts on the CW this fall.
Tyler was abroad in Australia when his new role was announced. He told the Sydney Daily Mail that he's planning to be his own Superman, "I never try to compare and contrast performances because it's such an iconic character already. Superman is Superman so I'm just going to try to carry on the tradition of that and play that part."
The challenge of the part, according to Hoechlin, is playing the superhero's mild-mannered alter ego, "I think the fun is going to be finding where Clark Kent is in this world. I'm just excited to find out Clark's sense of humor."
Supergirl debuts in October on the CW.
You'll find more on how Hoechlin got the part and some fan reaction over at Fandom.com.
Community content is available under
CC-BY-SA
unless otherwise noted.