Teen Wolf News 090716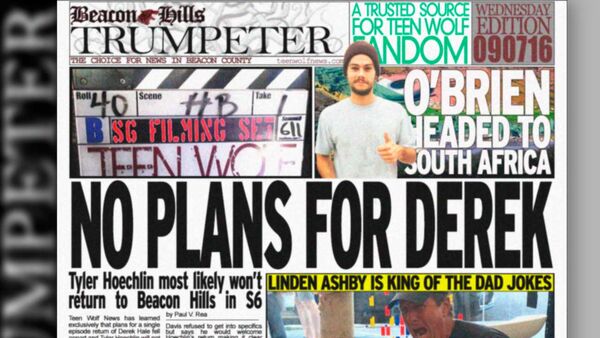 Tyler Hoechlin Isn't Doing Teen Wolf
Another batch of fake news headlines stirred up false hope with some Teen Wolf fans this week by suggesting that Tyler Hoechlin (Derek Hale) will be returning to the show in Season 6. IT'S NOT TRUE, but sources tell TWN it's not for lack of trying on the part of the Teen Wolf production.
This latest BS clickbait is due to a single line in a recent JR Bourne interview. It seems JR was with Hoechlin while on the phone with a reporter from The Wrap.
TW: How do you feel about this being the last season of Teen Wolf?
Bourne: It has been literally one of the most influential experiences of my career. The longevity of it, the friends that we've made from it. I'm standing here now with my hand on Tyler Hoechlin's shoulder; we are all genuinely close from the show.
TW: Well, since you're standing there with him, should fans expect to see Tyler return for the last season?
Hoechlin: Dot dot dot [Laughs].
Bourne: Well, there you have it.
Those verbal ellipses were enough to set off the nattering nabobs of nonsense at all those sites that never report anything that even resembles the truth. According to them, Hoechlin's return was all but assured. Again, it's not true – but it almost was.
Teen Wolf News has learned exclusively that there were high-level talks several months ago for a single-episode Derek Hale return. No one within the production is willing to discuss the details directly, but those talks apparently collapsed over the particulars of the contract, and neither side has broached the subject since. One thing is very clear; there are no current plans for Hoechlin to return to Teen Wolf for Season 6. Derek is not coming back in any of the existing scripts.
Of course, as much as Hollywood is the land of disappointment and crushed dreams, it can also be a land of delightful surprises and, truly, anything is possible. Teen Wolf Executive Producer Jeff Davis says if Hoechlin decides he wants to come back (and if the PTB can work out a deal this time), they'll write him in.
"If Tyler is ready to reprise his role of Derek Hale," Davis told The Wrap, "we would love to have him back."
Article Link: http://www.thewrap.com/teen-wolf-jr-bourne-dylan-obrien-tyler-hoechlin-final-season/
Teen Wolf Filming New Episodes in October
The Teen Wolf Season 6 shooting schedule has been a bit of a moving target. With the first set of 10 episodes, things remained pretty stable. They knew in advance that Dylan O'Brien would be off shooting The Death Cure and unavailable for much of the spring. Then came his accident and extended recovery and things started to fall apart. Now Teen Wolf News has learned, thanks in part to the recently rescheduled Death Cure shoot, the Teen Wolf schedule is changing yet again.
Teen Wolf cast and crew should have returned to set last month, at least, that was the plan. They were to come back in August for a couple of weeks to finish up the final shots for the first ten episodes. Dylan wasn't ready to start back that early so they pushed those reshoots to October with principle photography on the back half of the season set to start sometime later.
Executive producer Jeff Davis confirmed to TWN that they're now going to film those last ten episodes starting in October, "Yes we are. Pushing up the schedule a little."
While Davis didn't offer a reason for the change, it appears they're getting squeezed by Dylan's schedule once again. He's in Europe right now working on American Assassin with Michael Keaton. He starts shooting The Death Cure in South Africa in late February. Teen Wolf is now scheduled to film between October and January.
Linden Ashby: King of the Dad Jokes
Trust actor Linden Ashby to crack everybody up with a well-timed visual dad joke.
His caption: I thought I had a relationship w the pack but... damn.
Dylan O'Brien: Road to South Africa
There will be a new star visible in the southern hemisphere this winter. Dylan O'Brien is heading to South Africa to film Maze Runner: The Death Cure in February. As you learned in Science class, things operate backward down below the equator so February there is like September here in the US. The weather won't be exactly like spring in Canada, but it should be close enough for the production to get what they need.
You'll find more details about the change in location in my report on Fandom.com.
Article Link: http://fandom.wikia.com/articles/dylan-obrien-heading-south-africa-death-cure
Community content is available under
CC-BY-SA
unless otherwise noted.